The Katmai Coast is well known for its coastal brown bear viewing. Kodiak is the closest and easiest access to this part of the Katmai National Park – which is one of the least visited national parks in the country, in part due to the lack of road access. Most people that visit Alaska experience the Brooks Falls / Brooks Lodge part of Katmai Park. The coastal part of the park is rugged, untouched and a much more personalized experience. In May & June the bears tend to be clamming and grazing along the beaches and lowland areas. This is Kyle's favorite time of the season to provide you a bear viewing experience, because you never know what your will come across!
The experience: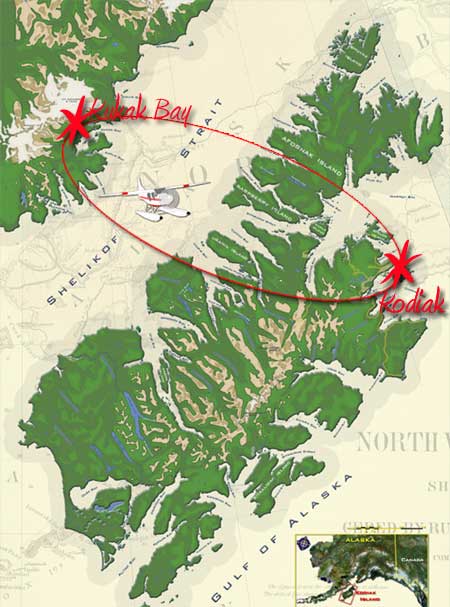 The tour starts off in Kodiak city, where you will board one of Kingfisher's Bush Hawk Floatplanes. Before the trip you will be outfitted with a pair of hip boots and a rain jacket at our hangar / office. The flight will take you West to the Katmai Coast on the Alaska Peninsula. This is about an hour flight and your aircraft will pass by the village of Ouzinkie, mountains, islands and bays. Ocean waters can be active with finback or humpback whales. Your pilot will narrate along the way on the voice activated headsets, pointing out interests along the way. The pilot will splash down the floatplane in one of the saltwater bays – most likely in Kukak Bay, Geographic Harbor or Kinak Bay.
Most of the areas that are concentrated with bears are very tide oriented, and we try to plan the tour around an incoming tide. During this early season, the bears are slow moving an mythotical in their movements. It is not uncommon to find bears clamming nearby the shore, where we can view the bears from the pontoon of the aircraft. Bears tend to be very loosely concentrated nearby the beaches, and typically you will encounter only one or two bears at each location. Your pilot will survey the coast and may take you to several different locations during a single outing.
Every visit the experience is different since there is not just one area where the bears congregate – they tend to be all over. Plan on bringing a pair of binoculars and a zoom lens for your camera – sometimes the bears may be 100 yards away, other times they may come as close as 40 yards. Most of the time, we do not have to stray too far from the anchored floatplane to experience the bears. After about an hour, you will return to the airplane and everyone will climb in for the flight back to Kodiak. The end of the tour brings your floatplane right to the front door of Kingfisher's office on Lily Lake.