The Katmai Coast is well known for its coastal brown bear viewing. Kodiak is the closest and easiest access to this part of the Katmai National Park – which is one of the least visited national parks in the country, in part due to the lack of road access. Most people that visit Alaska experience the Brooks Falls / Brooks Lodge part of Katmai Park. The coastal part of the park is rugged, untouched and a much more personalized experience. In August, September and October the salmon runs are at full swing and the bears tend to be fishing in the river. Kingfisher Aviation began visiting Katmai for its bear viewing programs in 2003 to extend and compliment the bear viewing season when Frazer Lake bear viewing tapers off.
The experience: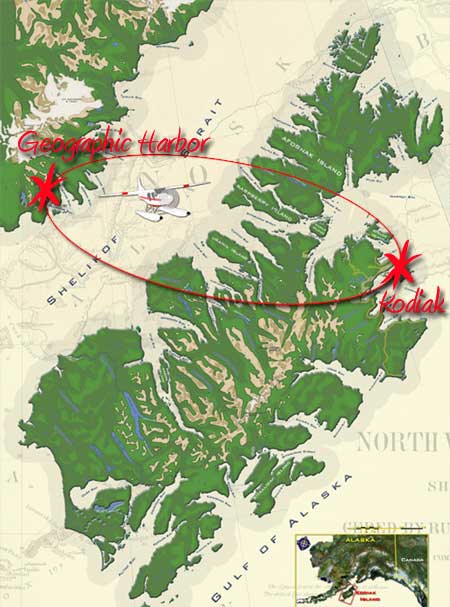 The tour starts off in Kodiak city, where you will board one of Kingfisher's Bush Hawk Floatplanes. Before the trip you will be outfitted with a pair of hip boots and a rain jacket at our hangar / office. The flight will take you West to the Katmai Coast on the Alaska Peninsula. This is about an hour flight and your aircraft will pass by the village of Ouzinkie, mountains, islands and bays. Ocean waters can be active with finback or humpback whales. Your pilot will narrate along the way on the voice activated headsets, pointing out interests along the way. The pilot will splash down the floatplane in one of the saltwater bays – most likely in Geographic Harbor or Kinak Bay.
Most of the areas that are concentrated with bears are very tide oriented, and we try to plan the tour around an incoming tide. Your pilot will anchor the floatplane. You should plan on hiking a short distance across tidal flat area, where bears will most likely be fishing in the nearby salmon stream. Depending on the stage of the tide, the walk may be as much as ½ mile to the bear viewing area. Brown bears in this area tend to range in size from small sub-adult bears to the large male boars.
Every visit the experience is different since there is not just one area where the bears congregate – they tend to be all over. Plan on bringing a pair of binoculars and a zoom lens for your camera – sometimes the bears may be 100 yards away, other times they may come as close as 20 yards. The bears main focus is fishing for pink salmon in the streams. After about an hour and a half, pilot/guide will paddle out to the floatplane in an inflatable kayak (yes – paddle out because the tide comes in and covers the tidal flat in water!). He will taxi the plane back to the shore, where everyone will climb in for the flight back to Kodiak. The end of the tour brings your floatplane right to the front door of Kingfisher's office on Lily Lake.